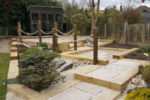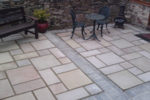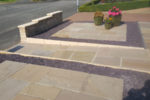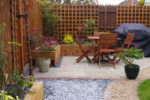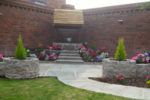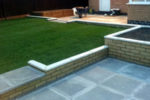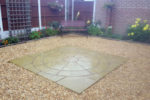 Paving in Loughborough
Paving in Loughborough:
On a warm summers evening at the end of a hectic day there is nothing quite like a glass of your favorite tipple while sitting on a beautifully crafted sandstone patio, listening to the gentle rustle of the Black Bamboo - (Phyllostachys nigra).
Whether your paving (slab or block) requirement is 1sqm or 1000 sqm then Harrison Landscaping are the company to call if you want your paving to last and look good. We can quote to replace broken slabs or set out a new path or even replace existing paving with something more contemporary it might be that the paving just requires cleaning we can do that to.
Who ever you get to do the work make sure that they know what they are doing and that they will prepare the paving base to the correct depths, levels and falls and that all waste is carried off-site by a licensed carrier.
We generally take photos before,during and after all of our paving projects so that the client can always be assured that the standard of work has been carried out to a very high and exacting level.
Of course your paving project does not need to be made just from slabs it could just as easily be constructed from concrete - with or without a pattern pressed on it -or your paving could be crafted from numerous materials such as natural stone, block paving, bricks, wood etc or any combination of these.
Other materials such as bark and gravel could be used for paving but they generally make the journey across quite difficult, these are usually suitable for more decorative parts where feet and thin wheels do not need to travel.
Whatever your paving requirement please call me, Chris Harrison on 01509 842870 and I will gladly pop along and discuss the options with you. If you already have an idea of which materials you would like to use for your paving I can quite easily bring along some examples so we can both visualise what the finished effect will look like.
We construct all Paving and Patios taking into account the lay of the land with regards to drainage and type of base required for the particular type of stone to be laid. We can repair old and worn out stone patios by relaying or replacing broken or wonky stones and grinding out the old mortar and replacing with something stronger.
As long as the patio has been constructed correctly with quality materials then there is no reason why the patio should not last a lifetime without cracking or subsidence.
Here at Harrison Landscaping, we use only the highest quality stone or concrete materials and craftsmanship on our patios.
Once the falls and levels have been marked out the the entire patio area will be excavated so that at least 75mm to 100mm of Type 1 MOT (Hardcore) can be bought in and compacted. If the patio is to be used for heavier usage then anything between 100mm and 300mm hardcore will be used to stabilize the patio area.
After compaction the patio construction can start for real. If Indian sandstone is being laid then a full bed of mortar is used, this is to ensure that no voids are left underneath the stone which will allow little critters ( i.e. ants) to destabilize the ground and eventually disturb the stone work. When working with a natural product like Indian sandstone a gap of up to 15mm should be left between the flagstones this is to ensure that there is enough room to point between the stones as sometimes the patio stones will be of slightly different sizes and will on occasion butt up too close to each other especially on the larger patio.
Paving in Loughborough
Harrison Paving services covers Loughborough and all surrounding villages including:
Hathern, Quorn, Rothley, Woodhouse eaves, Old Woodhouse, Newtown Linford, Barrow upon Soar, Long Whatton, Kegworth, Diseworth, Lockington, Hemington, Breedon on the Hill, Wilson, Isley Walton, Kings Newton, Tonge, Castle Donington, Melbourne,Sutton Bonington,sileby, Burton on the Wolds, Walton on the Wolds, Cotes, Hoton, Prestwold, Wymeswold, Seagrave, Cossington, Ratcliffe on the Wreake, Thrussington, East Goscote, Mountsorrel, Queniborough , Swithland, Woodhouse.